Company Profile
Wenzhou Huaqiao Packing Machine Factory was established in 1987, is a professional manufacturer of vacuum packers, sealing machines for bags, carton sealers, cup sealer, thermal shrink tunnel machine, strapping machine, filling machine and date printer.
As a enterprise in China's packaging machinery industry, we are making good semi-automatic strapping machines.The KUNBA brand means the stability of our products.
The continuous band sealing machine SF150 was invented and developed by our research team.
Tel: +86-577-88996613
Product Description
Double Chamber Vacuum Sealer Machine (deep type) DZ-500/2SA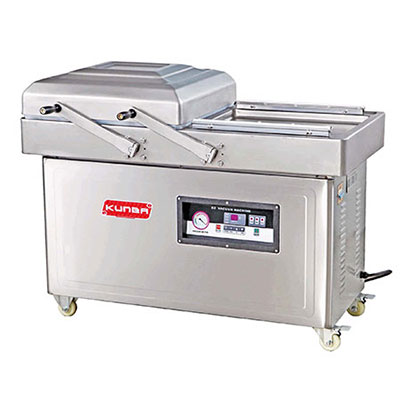 Technology Parameters
| | |
| --- | --- |
| Power Supply | AC380V/50Hz 220V/60Hz |
| Power Consumption | 0.75Kwx2 |
| Heat Sealing Power | 0.9Kw |
| Ultimate Vacuum | 0.1hPa(mbar) |
| Pump Capacity | 20m3 /hx2 |
| Sealing Length | 490mm |
| Sealing Width | 10mm |
| Vacuum Chamber Depth | 40mm |
| Shipment Dimension | 1340x740x1030mm |
| N.W&G.W | 182Kg/232Kg |
Outline

Double chamber Vacuum sealer or packer DZ-700/2SA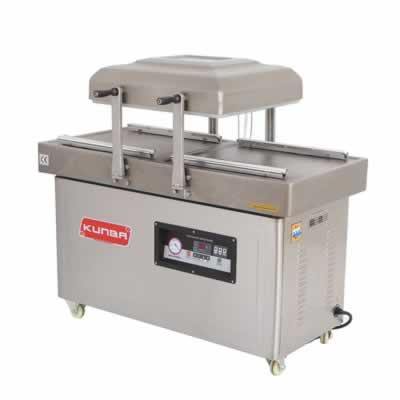 Technology Parameters
| | |
| --- | --- |
| Power Supply | AC380V/50Hz 220V/60Hz |
| Power Consumption | 1.5Kw |
| Heat Sealing Power | 1.3Kw |
| Ultimate Vacuum | 0.1hPa(mbar) |
| Pump Capacity | 40m3/h |
| Sealing Length | 690mm |
| Sealing Width | 10mm |
| Vacuum Chamber Depth | 40mm |
| Shipment Dimension | 1730x815x1045mm |
| N.W&G.W | 267Kg/330Kg |
Outline